Quote Of The Week:



I REALLY appreciate your follow up and the fact that you stand behind your product. You guys have always been responsive and I truly appreciate it. You truly are AMAZING! If you ever need a testimonial I am happy to do so.

Jason

About the Software

This software has been constantly updated, tweaked, and refined for over a year now. It is and will continue to be on the cutting edge of this form of marketing.

Frequent updates, new features and a passionate programming team dedicated to the development are included with every CL Poster sale.

Thank you for considering Craigslist POSTING SOFTWARE.


Updates in 2023

68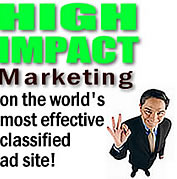 This CL Auto Poster software makes posting Craigslist ads extremely easy! This automatic craigslist poster is a must have tool! Any type of Craigslist Autopost tool will automatically post craigslist ads. This Craigslist automatic poster software will lessen your posting time, manage your campaigns, and broaden your craigslist customer base. We respect posting craigslist ads and insist that you do not spam craigslist with any kind of autopost software!